If you would like to know more about robo-consult, including how it can help organisations step change their performance, please download our brochure here. Or get in touch directly via the footer below.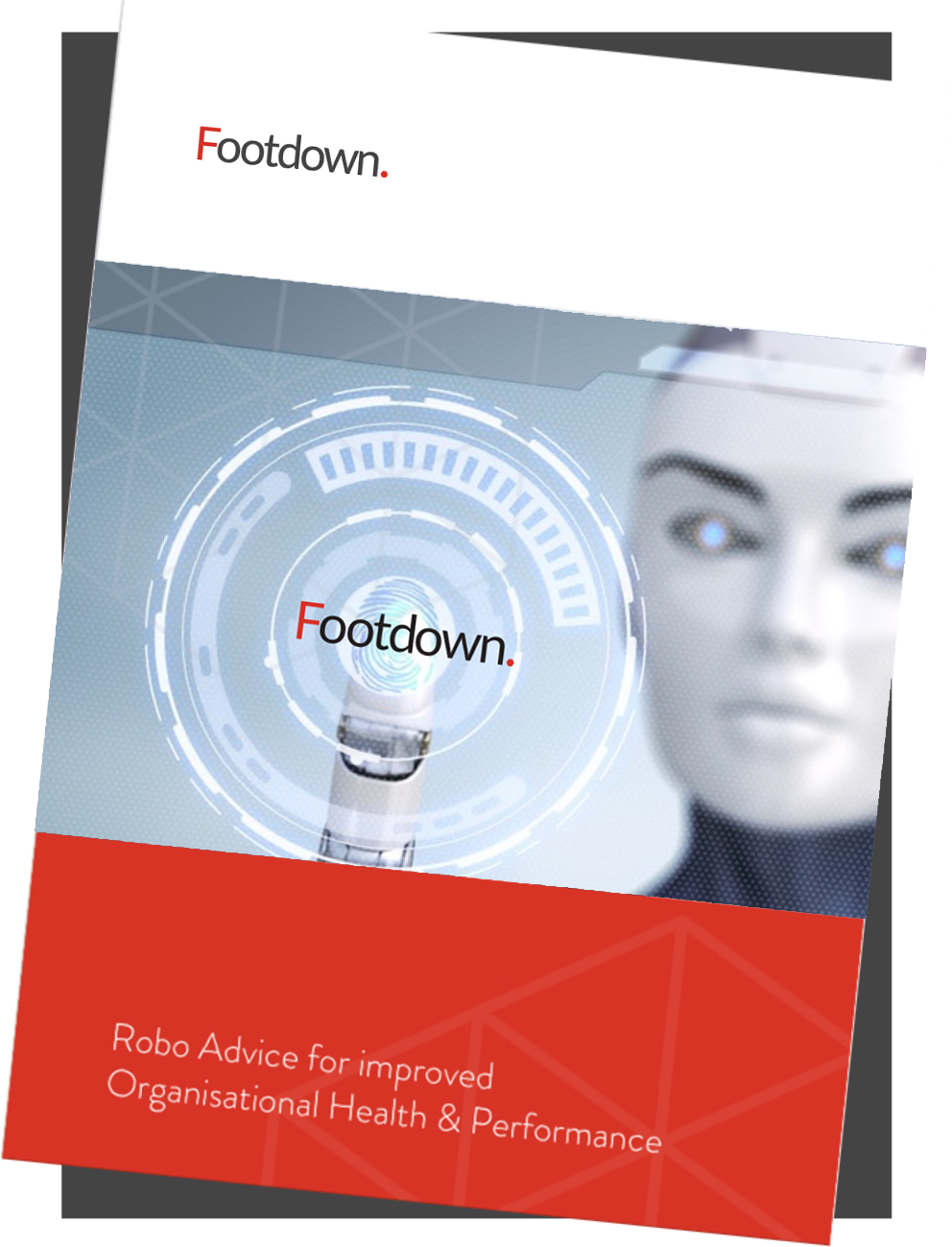 Why use Robo Advice to deliver performance improvement?
Today's leaders have increasingly complex landscapes to manage - their markets are fast-changing and increasingly competitive. In addition, they need to contend with the implications of major external events, such as Brexit, the banking collapse, or the misuse of personal data by social networking sites. Internally they need to capitalise on the ever-broadening sets of data at their disposal and are under increasing pressure to automate their businesses to reduce cost, increase productivity while motivating and retaining the right employees.
So how are decision makers supposed to make sense of this complex data-led landscape and ensure long-term success for their organisations?
The answer lies in exploring the technologies that are currently disrupting many industries – from Robotic Process Automation (RPA) through to Cognitive Automation and Robo Advice, increasingly underpinned by machine learning or AI. Advances in automation technologies give genuinely exciting opportunities for leaders to synthesise the data they hold and convert it into insights and advice as to how best to optimise their businesses.
Using advances in Robo Advice to understand, track and improve workplace performance will do more than just improve employee morale – by focusing on the right aspects of performance, it lets employees and teams better align behind and deliver the strategic goals that improve results.
Consultants McKinsey say that such alignment demonstrably brings performance advantage. They have been benchmarking companies in this area for 10 years and see hard evidence that companies that focus in this way not only achieve measurable improvements in their organisational well-being but demonstrate tangible performance gains in as little as 6 to 12 months. This holds true across sectors and regions, as well as in context ranging from turnarounds to good-to-great initiatives[1].
Why use robo-consult?
Although we agree that alignment behind common goals drives overall performance, our approach is more direct than that of external benchmarking.
Our robo adviser, robo-consult, has embedded in it the academic research and thought leadership from the field of Organisational Sensemaking[2]. This focus allows robo-consult to rapidly and accurately analyse and read between the lines of an organisation, identifying the very areas to work on to drive cohesion and performance, underpinned by common goals and beliefs.
robo-consult was built with the goal to reduce ambiguity and complexity. No longer is it necessary to employ teams of consultants to sift organisational silos for data or conduct lengthy interviews. robo-consult delivers crucial insights quickly and at a fraction of the cost of traditional methods. It is an excellent foundation for the automated intuitive analysis of organisational behaviour and a genuine alternative to the often slow, cumbersome and expensive rational consultant led strategic programmes of work.
Sensemaking itself is the way in which the human brain processes complex information to reach decisions, but the brain can only analyse a limited amount compared to robo-consult, especially when under pressure. robo-consult already takes into account wider research into how organisations function, giving a breadth of coverage that far-outreaches traditional methods, whether these be engagement surveys or traditional consultant discovery.  It analyses across the piece to deliver insight that helps leaders drive performance.
Although Sensemaking as a research field isn't new, applying Organisational Sensemaking to Robo Advice for businesses and organisations is. There is simply nothing like it in the marketplace that has such a rigorous academic underpinning. With robo-consult, organisations can harness the power of the natural process of Sensemaking by mimicking it through software development, adding a breadth and depth beyond what humans are capable of reliably exploiting.
Who is robo-consult for?
robo-consult has been built for leaders who are looking for fast, simple and actionable insight that helps deliver a culture of performance improvement within their organisation, division or team. It is highly adaptable, builds results in real time and can be effectively used in a Boardroom scenario or across multiple locations.
It is well positioned to help leaders in a variety of scenarios: for newly-placed leaders that need to quickly work out what is happening in their organisations and therefore what to do next, as well as for existing leaders who are concerned about performance and need to identify organisational issues, current or potential, and what to do to fix them. Those who are enjoying success can use robo-consult to guard against complacency and uncover hidden potential that can take performance to the next level. Or it can be used as part of a strategic or implementation project – during M&A activity, strategic planning or managing change.
Much more than a traditional employee engagement survey, robo-consult collects data organisational culture, resilience, leadership capability, employee engagement and alignment. This data can be gathered on a large scale across a whole organisation, for a senior leadership team or for a specific functional team. It can be collected once, or periodically in order to track progress.
robo-consult's advice does not yet entirely replace humans, but through automation of the Sensemaking processes, it disrupts the traditional consulting methodology by doing the heavy lifting of accurate, rapid data analysis. The pace and accuracy with which this Robo Adviser can cut through to the nub of an organisation's issues and set out interventions is phenomenal.
---
[1] Organizational Health: a fast track to performance improvement, McKinsey Quarterly September 2017
[2] Senior members of Footdown have research ties to the universities of Bath and Cardiff. This involves research with Wiltshire Police (ongoing) and previously, the Counter Terrorism Command NSY which resulted in the award of international research paper of the year (2014).